Esther G. Little | Obituary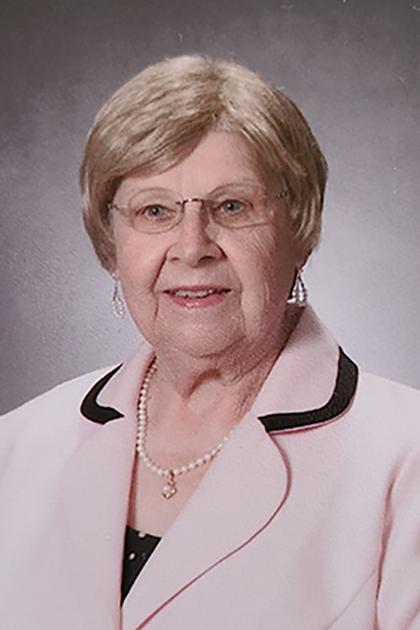 Esther G. Little, 96, of Gettysburg, passed away peacefully on Tuesday, May 25, 2021 at Cross Keys Village in New Oxford. She was born April 8, 1925 in Dillsburg, Pennsylvania, daughter of the late Mervin L. and Grace I. (Trump) Murray.
Prior to marriage, Esther worked as a clerk / typist at the Mechanicsburg Naval Depot. On June 16, 1946, she married Nile R. Little. After having two children, in 1959 Esther and Nile founded Little's Gas Service in Aspers. Until her retirement in 1995, she helped her husband until his death, and then continued as director of the company.
She was a member of Christ Lutheran Church in Aspers, Adams County Builders Association, Gettysburg and Adams County House, Gettysburg Red Hat Society, Aspers Fire Company, The Biglerville Kitchenettes and was a supporter of the Adams County 4-H Club, and many more.
She was an active member of the Gettysburg Hospital Foundation. She also established the Esther G. Little Nursing Award, administered by the Harrisburg Area Community College, and established the Esther G. Little Nursing Scholarship, administered by the Gettysburg Hospital Foundation Oakside Community Park in Biglerville, which also received endowments for The Esther Little Trail and the Covered Bridge.
Esther enjoyed traveling the world with her friends and family on many cruises, bus trips and airplanes. She was also involved in Senior Acts and participated in many of their plays, swimming and exercising at the YMCA in Gettysburg, always volunteering somewhere, at the Gettysburg Hospital, at the Apple Museum. from Biglerville, helping with activities and events at SpiriTrust Lutheran and wherever she is. necessary.
Esther is survived by her daughter, Beverly Gerlach and her husband, Philip of New Oxford; his son, Richard Little and his wife, Lynn of Hanover; three grandchildren; two step-grandchildren; five great-grandchildren; and nine great-great-grandchildren. Besides her parents, she was predeceased by her husband, who died in 1987, Nile R. Little; brother, Eugene Murray; and two sisters, Betty Flud and Martha Ocker.
Professional services are provided by Dugan Funeral Home Inc. 111 S. Main St., Bendersville.
Funeral services will be held at 12:00 p.m. on Saturday, May 29 at the funeral home with Pastor Michael E. Allwein officiating. A visit will take place from 10 a.m. until service time. Interment will be in Dillsburg Cemetery.
Contributions can be made in memory of Esther at the Adams County 4-H Club, 670 Old Harrisburg Road, Suite 204, Gettysburg, PA 17325.
Friends can express their condolences online at www. DuganFH.com.