Healthy Somonauk; Serena, Streator, Earlville all on the reels – Shaw Local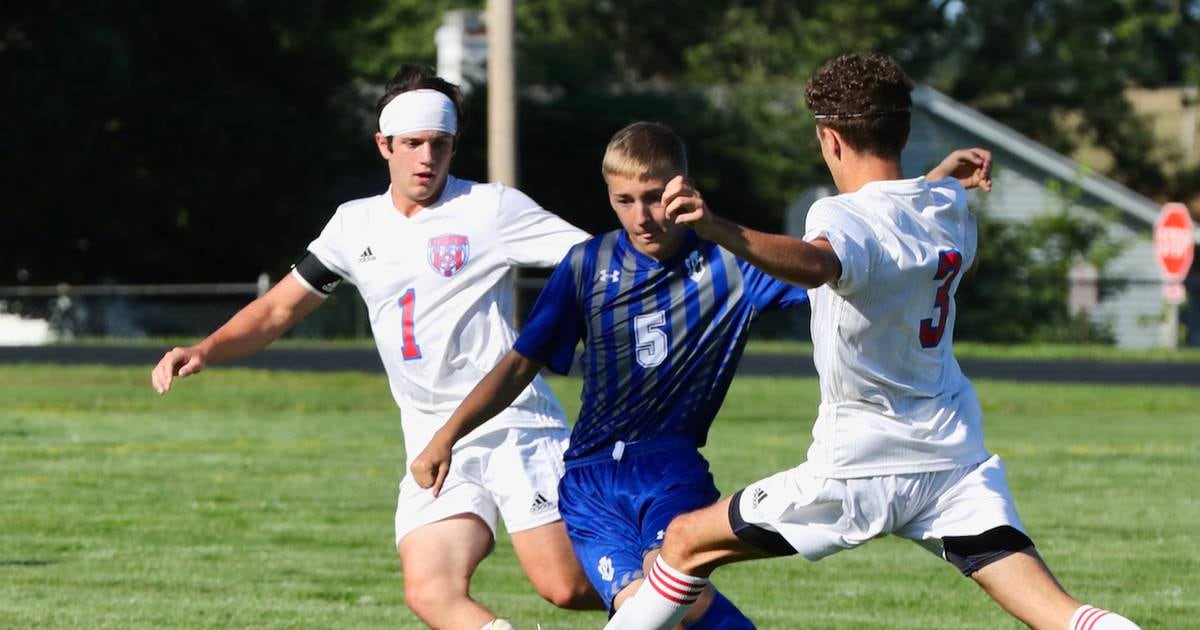 As the men's soccer season reaches the midpoint overall and in conference rosters, most of the Times area's six teams are either posting strong records or playing well, while others continue to be on close to ending the campaign strong.
Somonauk almost back to full power
The Bobcats (5-4-1, 1-1 Little Ten Conference) are undefeated in their last three games, including solid wins over Princeton and Indian Creek last week. Lance Grandgeorge has scored 11 goals in the last two matches and currently has 20 goals and five assists this season, while Luke Rader has nine goals and 16 assists.
"Things are going well, we're finally getting everyone back healthy and the team is starting to click," Somonauk coach Jonathan Liechty said. "We've had a lot of adversity this season, but the guys have turned their setbacks into preparations for the next game, the next game and the next opportunity. They just don't give up.
"Lance is really in great shape as we head into the final stretch of the season. He's just a tough, competitive young man. He hates losing, and even more, likes to win. His tenacity and perseverance have no doubt led to his goalscoring surge in the last two games.
The rhythm continues for Serena
The Huskers are 10-0 (2-0 LTC) this season, beating the previous program mark of nine straight victories produced by the 2002 team, and they have now set their sights on the 1999 record of 12 consecutive wins.
Tanner Faivre (20 G, 8 A), Camden Figgins (12 G, 6 A) Hudson Stafford (3 G, 9 A), Richie Armor (5 G, 5 A) and goaltender Carson Baker (saved 41 on 48 shots against , 5 shutouts) led the way.
"I'm just really proud of how the kids prepared for the season and how focused they were in every game," Serena's coach Dean DeRango said. "We really focused on our weight program this summer, and you can see how much more stable and physical we are. Big credit to trainer Chris Gunier, who has the weight room open all summer. summer and made the kids work on his bodybuilding program.
"We have the big games in our schedule coming up, then the conference tournament, then we have a regional. We just have to keep working hard and keep our eyes on the prize.
"I love this group of kids, and whatever happens the rest of the season, they can control themselves."
Earlville hope to keep cleaning
The Red Raiders are 7-2 overall (2-1 LTC) and have won three straight games, but coach Larry Heiden believes his team needs to improve in all aspects of the game.
"The only real positive I took from those games was that we beat the teams that we should," Heiden said. "Oregon and DePue/Hall are both good teams, but we allowed those games to be closer than they really should have been. bad goals on us, and we left a lot of goals [breakaways, open nets, and odd-man rushes] in the field."
Diego Vazquez (17 G, 5 GWG, 3 A), Griffin Cook (10 G, 12 A) and Trenton Fruit (8 G, 2 A) have provided the punch this season.
"None of that is really surprising because Diego and Griffin both had monster seasons last year, so I knew they would fill the stat line," Heiden said. "I told Trenton this year that he should catch up on production [graduated] Bryar Keller gave us last season, and he did a good job doing that.
Steator's defense, Grabowski excelling
The Bulldogs (8-2, 2-1 Illinois Central 8) have won consecutive games with a combination of a tough diamond defense led by Adam Williamson (7 A) and Parker Phillis (3 G, 8 A), as so only seven goals from Brady Grabowski (16 G, 2 A).
"Brady brings incredible speed down the wing and was able to find the ball in the wrong direction, following up with some really hard shots that are hard for goalkeepers to deal with," Streator coach JT Huey said. , who got 10 goals from Noah. Russow and seven others from Landon Muntz this year. "Our defense is experienced and talented, with Williamson and Phillis strong defensive players who regularly get us out of blocks and frustrate opposing forwards."
Sandwich continues to work on a "simple" approach
The Young Indians (2-9) picked up a solid 3-2 win over Hinckley-Big Rock last week, and coach Aaron Mlot said he and his team insisted on playing a simple game, which he believed was the key to victory. the Royals.
"We have a lot of young players with little experience, we recalled and insisted on 'simplicity' in training," said Mlot. "We have a few leaders in Luis Baez and Kayden Page who are able to carry that message and coach us on the pitch."
newark/Seneca stop the season
It was confirmed Wednesday that the Newark/Seneca co-op had canceled the remainder of its season due to a number of early-season injuries that didn't have enough players to compete.