Historical treasure: Hungarian roots are deeply rooted in Terre Haute | Valley life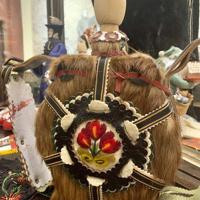 If you've ever been curious about Terre Haute's rich cultural heritage, the Vigo County History Center exhibits a wonderful collection of artifacts and stories. There, on the 2nd floor of the museum, you will learn about the wide range of people who migrated here from distant lands. We are a nation of immigrants creating a beautiful mosaic of nationalities and cultures, and our city and its people are the beneficiaries of this ethnic fusion. People from all over the world have brought their way of life to this city and left behind remarkable relics that display the sophistication of their homeland.
Looking at the display case which contains Hungarian immigrant artifacts, anyone would be drawn in by the fantastic use of vibrant colors and elaborate design. From clothes and accessories to ceramics and even a shepherd's gourd. The bottle we exhibited is brightly colored and adorned with animal fur and floral motifs of Hungary's national flower: the red tulip. As thousands of Hungarians began new lives in America, they came to Vigo County as miners, millers, and factory workers, mostly between 1901 and 1910. The largest group of about 40 families d immigrants settled on the north side of the city. near what was the Malleable Foundry and Manufacturing Company. It was common within immigrant communities for men to be the first to arrive. They would find work and a place to live, once their career and lifestyle became conducive to raising a family, they returned to Hungary to bring their families to their new home in Terre Haute.
Among the most famous aspects of Hungarian culture, which still exists today, is our very own Hungarian Hall. It was opened in 1909 as the Hungarian Workers' Benefit and Death Society and still operates today at 22 and Linden streets. It opened after a Hungarian immigrant died with no family present, so the community pulled together its resources and returned this man with the dignity he deserved. This hall would continue to provide financial assistance to needy families in the community and would also hold wedding and funeral ceremonies in the customary Hungarian style for generations to come. Today, the Hungarian Hall is an event center where people can hold weddings, fundraisers, and even the occasional traditional dance. Often at these events it is typical to be served a Hungarian red wine known as Egri Bikaver, or "Bulls Blood", which has become a symbol of national pride for Hungarian descendants around the world.