KU goalie Holly Kersgieter named preseason All-Big 12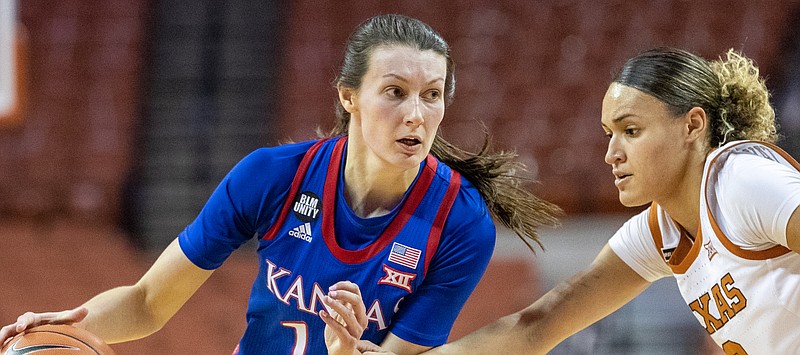 [ad_1]
Kansas junior Holly Kersgieter was one of 12 players named to the preseason women's basketball team, the Big 12 announced on Wednesday.
This is the second season in a row that Kersgieter has won preseason praise from the Big 12 coaches, who vote for the Big 12 preseason squad. Coaches are not allowed to vote for their own. players.
According to the Big 12, Kersgieter was tied with two other players for 10th place in the preseason vote, which required having a preseason squad with 12 players rather than the usual 10.
The Sand Springs, Oklahoma goalie led KU in scoring last season, with 17 points per game, and was also second in rebounds per game (6.7) and total steals (40).
Kersgieter has started all 24 games she has played and has often been a highlight of a team that finished the 2020-21 season with an overall record of 7-18, including a 3-15 rating in the Big 12.
She scored at least 3 points in every game of the 2020-21 season and led Kansas with 40 trebles for the season while shooting 32.8% from behind the arc.
The Kansas women will open the 2021-22 season with four straight home games, starting Nov. 10 against SIU-Edwardsville.
Pre-season player of the year
NaLyssa Smith, Baylor, F, 6-2, Sr., Converse, Texas
Newcomer of the year in pre-season
Jordan Lewis, Baylor, G, 5-7, Gr., Windermere, Fla.
First year student of the year in preseason
Aaliyah Moore, TX, F, 6-1, Fr., Moore, Okla.
Preseason All-Big 12 Team
* NaLyssa Smith, Baylor, F, 6-2, Sr., Converse, Texas
* Ashley Joens, Iowa State, G / F, 6-0 Sr., Iowa City, Iowa
* Ayoka Lee, K-State, C, 6-6, Jr., Byron, Minn.
* Madi Williams, Oklahoma, G / F, 5-11, Sr., Fort Worth, Texas
* Lauren Heard, TCU, G, 5-9, Gr., Denton, Texas
* Vivian Gray, Texas Tech, G, 6-1, Sr., Argyle, Texas
* Esmery Martinez, West Virginia, F, 6-2, Jr., Hato Mayor Del Rey, Dominican Republic
Queen Egbo, Baylor, C, 6-3, Sr., Houston, Texas
Joanne Allen Taylor, Texas, G, 5-8, Jr., Houston, Texas
Lexi Donarski, Iowa State, G, 6-0, So., LaCrosse, Wisconsin.
Holly Kersgieter, Kansas, G, 5-10, Jr., Sand Springs, Okla.
Taylor Robertson, Oklahoma, G, 5-11, Sr., McPherson, Kan.
* Denotes unanimous selection
Honorable mention (listed alphabetically by school): Ja'Mee Asberry (Baylor), Jordan Lewis (Baylor), Emily Ryan (Iowa State), Taylen Collins (Oklahoma State), Rori Harmon (Texas), KK Deans (West Virginia), Kari Niblack (West Virginia)
[ad_2]