Labor Relations Minister Tony Burke's industrial relations overhaul gives all employers the right to strike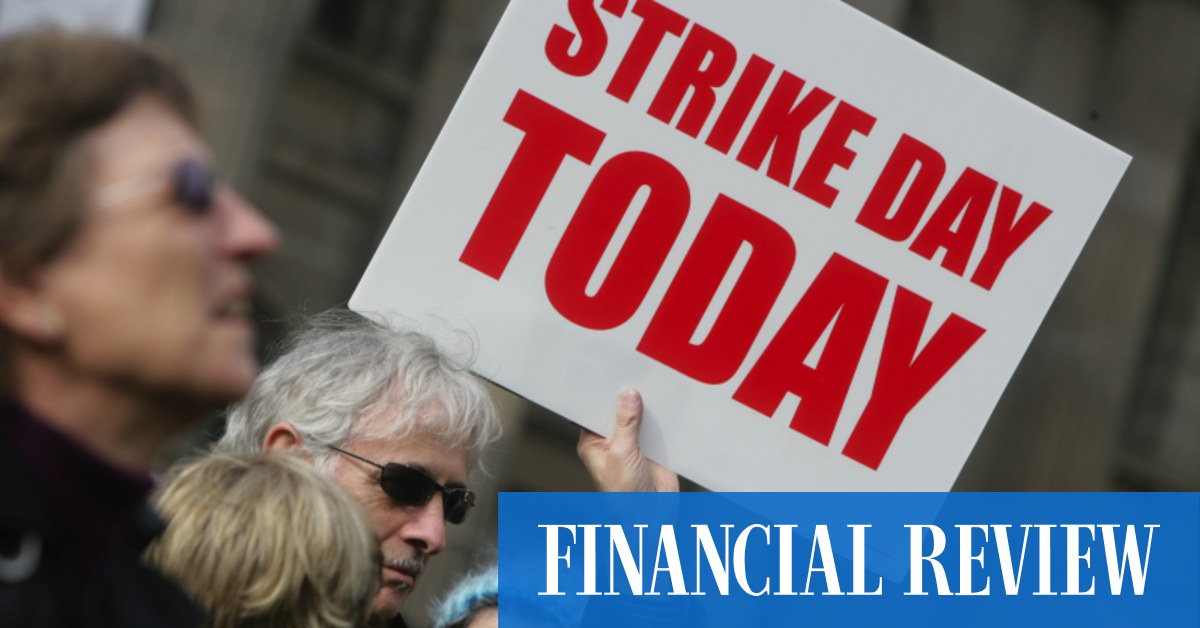 "Multi-employer bargaining is already possible under the Fair Work Act through three streams – single interest, multi-employer and low pay. The problem is that the system does not work.
Australian Chamber of Commerce and Industry chief executive Andrew McKellar said the bill supports mandatory multi-employer bargaining, "reversing decades of tripartite consensus".
"Companies will be forced to adopt one-size-fits-all terms and conditions, which may be unaffordable and ill-suited to the needs of their workplaces. It's not opt-in.
Minerals Council chief executive Tania Constable said the bill would threaten the mining industry and was 'a breach of the confidence of all Australian businesses' following assurances from Labor last year, negotiations industry were not part of his electoral politics.
The Australian Council of Trade Unions backed the bill, but expressed concern about the extra red tape associated with industrial action and what it still sees as a high bar for entering multi-employer bargaining.
"While we welcome the introduction of the Job Security and Better Pay Bill as an important step forward in many areas, particularly in relation to women's equality and respectful workplaces, we are concerned that too many workers are being excluded from the new bargaining options on offer, either automatically or because the bar to access them is too high," said ACTU Secretary Sally McManus.
"Furthermore, the bill does not simplify or remove bureaucracy that makes the process of obtaining protected industrial action unnecessarily long and difficult for workers, in fact, it adds more bureaucracy."
Unions that break the law are excluded
The bill revamps the Fair Work Act's limited provisions for multi-employer bargaining to create two main streams for employers and unions.
First, the bill revises the existing low-wage bargaining stream of the Fair Work Act, which allowed industry bargaining in low-wage sectors that lacked company agreements, such as care for the elderly and early childhood, but have reached no agreement in 12 years.
The new regime – known as "assisted bargaining" – relaxes requirements so that the Fair Work Commission can authorize multi-employer bargaining after considering whether it is appropriate for the parties to negotiate together, wages and conditions prevailing in the industry and whether the employers have common interests.
Unions would have protections to take industrial action in support of their claims in multi-employer bargaining – a first in Australian industrial history.
However, there would be additional caveats, including a five-day minimum notice for industrial action and a requirement to attend conciliation before – the latter would also apply to corporate bargaining.
More importantly, unions that have repeatedly violated the Fair Work Act as found by the courts in the previous 18 months would be excluded from multi-employer bargaining. The provision has been interpreted as blocking the militant construction division of the Construction, Forestry, Maritime, Mining and Energy Union.
The Fair Work Commission would also have additional powers to help the parties reach an agreement.
A second tier allows for a broader basis for multi-employer bargaining in any sector under a revamped "single interest" employer authorization.
Employers who have "clearly identifiable" common interests, such as location, regulatory regimes as well as the nature of the business, can obtain authorization to negotiate multi-employer agreements under this provision – which exists under fair work law.
But Labor reform would also allow workers to coerce employers into bargaining if they could show that a majority of workers in each employer supported it.
Small business employers, defined as having fewer than 15 employees, would be excluded from this second tier unless they choose to be included.
The Fair Work Commission could also increase the number of employers included in a "single interest" agreement based on a public interest test, which the bill's explanatory memorandum says could include economic ramifications, stop a "race to the bottom" on wages and adverse effects. effects on competition linked to quality and innovation.
CFMEU ban 'won't make any difference'
Master Builders Association chief executive Denita Wawn said the bill would be "disastrous for the economy" and reversed Keating's reforms to focus productivity and wages on specific business needs.
"This bill completely reverses that progress and will force workplaces to negotiate deals they don't want and subject workers and companies to industry-wide industrial action they don't support. ", she said.
"Workplace laws must encourage workplaces to drive productivity at the individual company level, not lead us back to a 'one size fits all' approach last seen in the 1970s."
She said that "banning the CFMEU from the proposed multi-employer bargaining stream will make no difference, and no one should fall for this legislative 'sleight of hand' approach".
"It makes no sense to create laws with exclusions for unions that break labor laws, when those same laws abolish the only workplace regulator who can effectively hold unions accountable for breaking the laws. on the job," she said.
Mr McKellar said the bill did not provide adequate safeguards to ensure companies with limited similarities were not forced to negotiate together.
"It endangers the sustainability of businesses, jeopardizes jobs and creates unnecessary complexity," he said.
"Significantly broadening the 'single-interest employer' test "exposes the Australian economy to sectoral strikes, disrupting supply chains and key industries at a time of extraordinary global volatility."
"Industrial Chaos"
Ms McKellar argued it would 'unleash industrial chaos' in the mining industry and accused Labor of not being outspoken in the last election.
"The introduction of the Fair Work Laws Amendment Bill today is a breach of faith by all Australian businesses, large and small, who have taken the Treasurer [Jim Chalmers] on his word when he said on Insiders last year that industry-wide bargaining was not Labor policy," she said.
"The only justification for introducing this bill is that it is a reward for the labor movement for its silent support over the past three years."
She said the bill was crafted without proper consultation and accused the government of seeking to "impose this far-reaching reform without any real possibility of scrutiny".
United Workers Union national secretary Tim Kennedy, whose union represents early childhood education and aged care as well as warehouse workers in key supply chains, said the reforms were "a first step crucial" for a wage increase.
"Fixing our broken bargaining system will mean that workers in essential areas like early education and care, elderly care and disability support, most of whom are women, will have a chance to put pressure on for the pay improvements they so clearly need," he said.