Sardines open the season with victory in Ada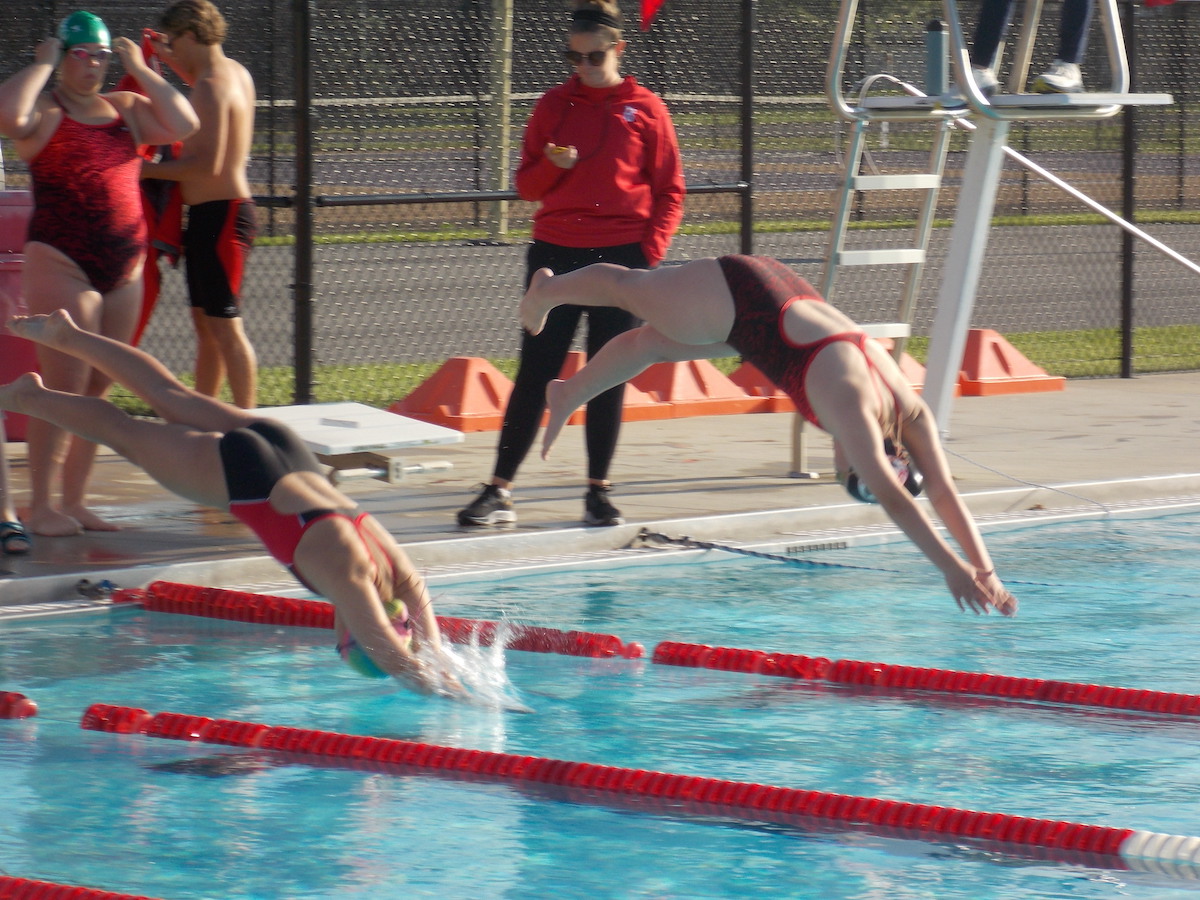 Story and photos by Cort Reynolds
The visiting Bluffton Sardines passed Ada-Lost Creek Gators in the West Ohio Aquatic League doubleheader on Thursday night June 9.
The Sardines won the combined boys-girls team event with scores of 465-274 against the Gators. The Sardines boys won 235-153, while the Sardines girls won 230-121.
Bluffton's Kari Diller won five races in the 11-12 age bracket to lead the girls.
Bluffton's Camden Verb won four individual races in the 11-12 age group to beat the boys.
NOTE: SC indicates the length of the pool "short course".
Bluffton's first winners:
Medley Relay 100m SC Girls 8 and under
Team Relay Placement Time Time Points for Finals
1 Bluffton-EH A NT Swim Team 2:30.21 10
1) Gwin, Grace A 8 2) Geiser, Kenlee G 8 3) Agner, Madelyn P 8 4) Kauffman, Evelyn R 8
Girls 9-10 200 Meters SC Medley Relay
Team Relay Placement Time Time Points for Finals
1 Bluffton-EH A NT Swim Team 4:09.31 10
1) Wischmeyer, Autumn E 9 2) Ward, Naiyana R 10 3) Cocherham, Alysia D 10 4) Ulrey, Arden C 9
200 meter medley relay boys 11-12 years old
Team Relay Placement Time Time Points for Finals
1 Bluffton-EH A NT Swim Team 3:00.33 10
1) Armstrong, Owen L 12 2) Essinger, Levin D 11 3) Verb, Camden R 11 4) Cockerham, Caleb G 12
Girls 13-14 years SC 200 meter medley relay
Team Relay Placement Time Time Points for Finals
1 Bluffton-EH Swim Team A 2:39.12 2:38.61 10
1) Downey, Jenna M 14 2) Schneck, Lyla A 13 3) Mohr, Makenna P 14 4) Geiser, Karden F 13
Girls 6 and under 25 meters SC Freestyle
Name Age Team Ranking Time Final Time Points
1 Crosser, Carys H 6 Bluffton Swim Team-EH NT 32.00 5
Girls 7-8 25 SC meters freestyle
Name Age Team Ranking Time Final Time Points
1 Agner, Madelyn P 8 Bluffton-EH Swim Team 21.70 20.52 5
Boys 7-8 25 SC meters freestyle
Name Age Team Ranking Time Final Time Points
1 Shank, Roman P 8 Bluffton Swim Team-EH 20.21 17.62 5
Boys 9-10 50 Meter SC Freestyle
Name Age Team Ranking Time Final Time Points
1 Crosser, Bennett A 10 Bluffton-EH NT Swim Team 39.75 5
Girls 11-12 years old 50 meters SC freestyle
Name Age Team Ranking Time Final Time Points
1 Diller, Kari E 12 Bluffton-EH NT Swim Team 31.99 5
Boys 11-12 years old 50 meters SC freestyle
Name Age Team Ranking Time Final Time Points
1 Verb, Camden R 11 Bluffton Swim Team-EH NT 35.58 5
Girls 13-14 years 50 meters SC freestyle
Name Age Team Ranking Time Final Time Points
1 Downey, Jenna M 14 Bluffton-EH Swim Team 29.43 31.52 5
Boys 13-14 years old 50 meters SC freestyle
Name Age Team Ranking Time Final Time Points
1 Wright, Charles A 14 Bluffton-EH Swim Team 31.98 29.60 5
Boys 9-10 100 SC Meter IM
Name Age Team Ranking Time Final Time Points
1 Roby, Ethan D 10 Bluffton-EH Swim Team 1:46.23 1:53.94 5
Girls 11-12 100 meters SC IM
Name Age Team Ranking Time Final Time Points
1 Diller, Kari E 12 Bluffton Swim Team-EH NT 1:25.48 5
Boys 11-12 100 SC Meter IM
Name Age Team Ranking Time Final Time Points
1 Verb, Camden R 11 Bluffton Swim Team-EH 1:29.70 1:32.03 5
Girls 13-14 100 meters SC IM
Name Age Team Ranking Time Final Time Points
1 Downey, Jenna M 14 Bluffton-EH NT Swim Team 1:18.14 5
Boys 13-14 100 SC Meter IM
Name Age Team Ranking Time Final Time Points
1 Wright, Charles A 14 Bluffton-EH NT Swim Team 1:21.45 5
Girls 8 and Under 25 SC Meter Butterfly
Name Age Team Ranking Time Final Time Points
1 Agner, Madelyn P 8 Bluffton-EH Swim Team 27.90 23.94 5
Boys 8 and Under 25 SC Meter Butterfly
Name Age Team Ranking Time Final Time Points
1 Verb, Calder L 8 Bluffton Swim Team-EH 26.21 25.75 5
Boys 9-10 50 SC Butterfly Meter
Name Age Team Ranking Time Final Time Points
1 Roby, Ethan D 10 Bluffton-EH Swim Team 57.37 1:03.25 5
Boys 11-12 years old 50 meters SC butterfly
Name Age Team Ranking Time Final Time Points
1 Verb, Camden R 11 Bluffton Swim Team-EH 43.04 43.31 5
Boys 13-14 years old 50 meters SC butterfly
Name Age Team Ranking Time Final Time Points
1 Wright, Charles A 14 Bluffton-EH Swim Team 34.38 33.22 5
Boys 7-8 25 SC meter backstroke
Name Age Team Ranking Time Final Time Points
1 Verb, Calder L 8 Bluffton Swim Team-EH 27.42 28.34 5
Girls 11-12 years old 50 meters backstroke
Name Age Team Ranking Time Final Time Points
1 Diller, Kari E 12 Bluffton-EH NT Swim Team 38.61 5
Boys 11-12 years old 50 meters backstroke
Name Age Team Ranking Time Final Time Points
1 Eley, Caleb A 12 Bluffton-EH NT Swim Team 41.84 5
Girls 13-14 years old 50 meters SC backstroke
Name Age Team Ranking Time Final Time Points
1 Schneck, Lyla A 13 Bluffton-EH NT Swim Team 42.23 5
Boys 15-18 50 meters backstroke
Name Age Team Ranking Time Final Time Points
1 Schaublin, Grady D 16 Bluffton-EH NT Swim Team 33.26 5
Girls 8 and under 50 meters SC freestyle
Name Age Team Ranking Time Final Time Points
1 Agner, Madelyn P 8 Bluffton-EH Swim Team 48.65 51.97 5
Boys 8 and under 50 meters SC Freestyle
Name Age Team Ranking Time Final Time Points
1 Shank, Roman P 8 Bluffton-EH Swim Team 48.03 46.11 5
Girls 9-10 100m SC Freestyle
Name Age Team Ranking Time Final Time Points
1 Ward, Naiyana R 10 Bluffton Swim Team-EH 2:35.34 2:08.19 5
Girls 11-12 years 100 meters SC freestyle
Name Age Team Ranking Time Final Time Points
1 Diller, Kari E 12 Bluffton Swim Team-EH NT 1:12.18 5
Boys 11-12 years old 100 meters SC freestyle
Name Age Team Ranking Time Final Time Points
1 Verb, Camden R 11 Bluffton Swim Team-EH 1:18.75 1:21.81 5
Girls 13-14 years 100 meters SC freestyle
Name Age Team Ranking Time Final Time Points
1 Downey, Jenna M 14 Bluffton-EH Swim Team 1:05.58 1:07.35 5
Boys 13-14 years old 100 meters SC freestyle
Name Age Team Ranking Time Final Time Points
1 Wright, Charles A 14 Bluffton-EH Swim Team 1:18.74 1:13.25 5
Boys 15-18 100m SC Freestyle
Name Age Team Ranking Time Final Time Points
1 Schaublin, Grady D 16 Bluffton-EH Swim Team 1:10.51 1:01.62 5
Girls 9-10 50 SC meter breaststroke
Name Age Team Ranking Time Final Time Points
1 Cocherham, Alysia D 10 Bluffton-EH Swim Team 1:19.63 59.46 5
Girls 11-12 50m SC Breaststroke
Name Age Team Ranking Time Final Time Points
1 Diller, Kari E 12 Bluffton-EH NT Swim Team 49.03 5
Boys 11-12 50m SC Breaststroke
Name Age Team Ranking Time Final Time Points
1 Essinger, Levin D 11 Bluffton-EH Swim Team 47.55 49.35 5
Girls 13-14 years old 50 meters SC breaststroke
Name Age Team Ranking Time Final Time Points
1 Mohr, Makenna P 14 Bluffton-EH Swim Team 43.70 46.20 5
Boys 13-14 years old 50 meters SC Breaststroke
Name Age Team Ranking Time Final Time Points
1 Wright, Charles A 14 Bluffton-EH NT Swim Team 42.81 5
Girls 15-18 50m breaststroke meter SC
Name Age Team Ranking Time Final Time Points
1 Stechschulte, Izzy R 16 Bluffton Swim Team-EH NT 41.53 5
100m SC Freestyle Relay for girls 8 and under
Team Relay Placement Time Time Points for Finals
1 Bluffton Swim Team-EH A NT 2:27.95 10
1) Agner, Madelyn P 8 2) Gwin, Grace A 8 3) Kauffman, Evelyn R 8 4) Geiser, Kenlee G 8
100m SC Freestyle Relay for boys 8 and under
Team Relay Placement Time Time Points for Finals
1 Bluffton-EH Swim Team A 1:45.37 1:46.61 10
1) Shank, Roman P 8 2) Yarnell, Brady J 7 3) Roby, Parker E 7 4) Verb, Calder L 8
200m freestyle relay boys 9-10 years old
Team Relay Placement Time Time Points for Finals
1 Bluffton-EH A NT Swim Team 3:18.76 10
1) Crosser, Bennett A 10 2) DeMarco, Noah C 9 3) Lewis, Louie K 10 4) Roby, Ethan D 10
200m freestyle relay boys 11-12 years old
Team Relay Placement Time Time Points for Finals
1 Bluffton-EH Swim Team A 2:46.34 2:53.61 10
1) Armstrong, Owen L 12 2) Stanfield, Aiden J 11 3) Brauen, Owen D 12 4) Cockerham, Caleb G 12
Girls 13-14 years 200m freestyle relay
Team Relay Placement Time Time Points for Finals
1 Bluffton-EH Swim Team A 2:17.24 2:23.21 10
1) Mohr, Makenna P 14 2) Geiser, Karden F 13 3) Schneck, Lyla A 13 4) Downey, Jenna M 14
Boys aged 15 to 18 200m freestyle relay
Team Relay Placement Time Time Points for Finals
1 Bluffton-EH A NT Swim Team 2:01.40 10
1) Lehman, Jacob L 16 2) McCall, CJ 16 3) Schaublin, Grady D 16 4) Howard, Trent R 18