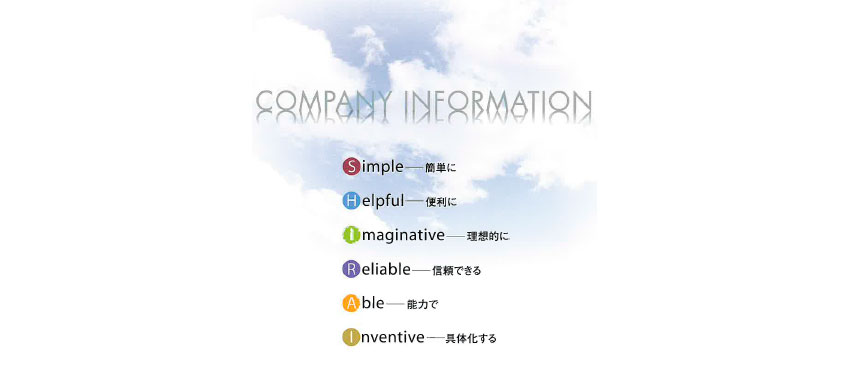 Address:
3-5-21, Kashita-Nishi, Higashi-Osaka, 577-0835 Japan
Phone number:
+81-6-6728-7615
Fax numbera:
+81-6-6720-2390
Company contact email:
info@shirai-tech.co.jp
Website:
Employees:
150 (entire group)
Capital:
JPY12,000,000
Presentation of your company and your activity:
We have been developing and manufacturing glass scribing and processing machines under the spirit of SHIRAI for more than 50 years. Our tracing and processing machines for mother glass are adopted by mother glass and LCD panel manufacturers in Japan and abroad.
Company Information:
Key products or services:
・Irregular shape panel striping machine for automotive application
・Robot breaker (online specification) for irregular shape panel
・Non-turnover type plotter
・Water diffusion prevention type grinder
・Scriber/grinder for Mother Glass
Factory equipment:
Total of 10 factories available. Plant No. 11 is currently under construction (completion scheduled for September 2022).
Basic/fundamental principle :
It's time to stop and think. It makes us always active in this hectic world.
Mere inspiration cannot give rise to technology.
We have accumulated technology since our foundation.
This allows our new technology to last into the next generation.
International operations:
Taiwan (office), China (local subsidiary)
SHIRAI ENGINEERING LIMITED (affiliated company in Japan)
Price:
Monozukuri Grand Prize Silver Award by Higashi-Osaka Chamber of Commerce and Industry in 2003
Company history :
June 1960 Established SHIRA TEKKOSHO in Kizuri Higashi-Osaka City, Osaka Prefecture.
July 1962 Name changed to SHIRAI TEKKOSHO CO., LTD.
October 1964 Move to current location and start manufacturing/selling small industrial machinery.
March 1967 Beginning of the design and manufacture of glass processing machines. Started receiving orders
for glass maker's glass making machines.
September 1974 Development of its first automatic cross plotting machine.
April 1975 Start of series production of automatic cross-plotting machines. Double press
edge grinders, shape edge grinders for automobiles, drills
machines and washing machines.
September 1982 Completed computer aided NC layout machines with dialogical automatic operation
functions.
October 1986 Completion of the new factory. Developed automotive glass processing machinery,
scribing, grinding and washing machines for LCD thin glass, processing machines for
microscope slide glass, water jet tracing machines, automatic glass conveying,
loading and tracing machines and insulating glass manufacturing machines.
1996 Entered electronic glass substrate field.
May 1999 Completion of the world's fastest machines in the field of tracing and processing of CF
electronic glass substrate.
September 2000 Completion of the new factory.
December 2001 Beginning of the sale of a tracing machine for solar cell substrate.
February 2002 Name change to SHIRAI TECH LIMITED
June 2002 Completion of vertical machines for scoring, breaking and R-bevelling of double-sided glass
for PDP.
October 2003 Completed non-rotating striping and breaking machines for G-5 cell panels.
December 2003 Completion of the G-5 dense unwrapping unit and conveyor with double-sided film stripper.
March 2004 Launch of the sale of large numerically controlled drills (3 spindles X and 1 spindle Y).
February 2006 Completion of G-8 Glass Loading Tracing Break Line.
July 2006 Expansion of the 8th factory.
September 2006 Creation of the Taiwan office.
August 2008 G-10 glass engraving machine completed.
March 2009 Launch of the sale of NC straight scribing machine + tilting table with breaking bar
(180×115 inch glass processing)
May 2009 Launch of the sale of NC straight scribing machine with loading arm (integrated breaking bar
and glass processing 150×100 inches
November 2009 Creation of SHIRAI ENGINERRING (affiliated company)
May 2010 Creation of the Chinese office in Shenzhen.
September 2011 Completion of the new headquarters and expansion of the 9th plant.
January 2012 Launch of the sale of multi-irregular tracing machine (5 spindles) for thin glass.
October 2012 Launch of the sale of NC multi-head tracing machine (3 spindles X and 3 spindles Y).
October 2013 Launch of the sale of a variant of a tracing machine with an A-shaped sliding glass holder
(Integrated loading arm) for 100×75 inch glass.
May 2014 Completion of the factory in China in Shenzhen (local subsidiary).
January 2015 Automatic CoS (cutting-on-sealant) plotter completed.
July 2018 Expansion of the 10th factory.
June 2019 Started sales of irregular scribing machine for automotive application panel.
January 2020 Development of a new generation cutting wheel (PEACH).
September 2022 Expansion of the 11th plant (planned).