The glacier passes Flathead in a crosstown match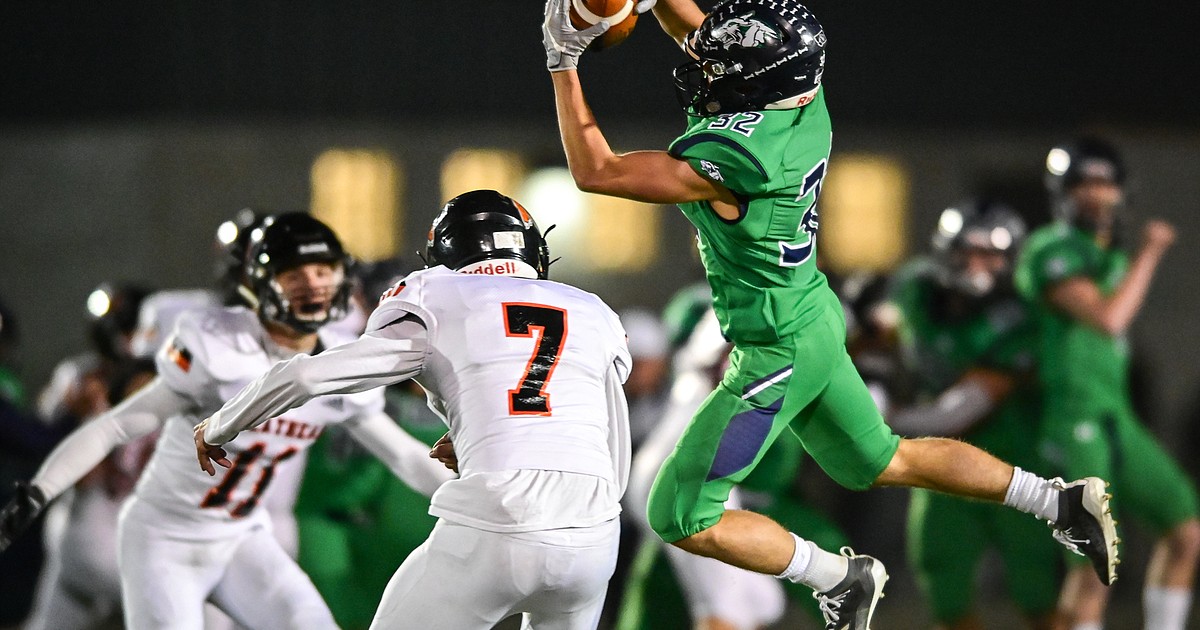 [ad_1]
At the crosstown game, the Glacier Wolfpack was back to making big plays.
Junior quarterback Gage Sliter threw for 269 yards and three touchdowns, and Jake Rendina racked up three more rushing scores as Glacier handled Flathead, 56-0, in their 15th meeting at Legends Stadium.
The Wolfpack (5-3 overall and 3-3 in West AA) were in command almost from the start. Flathead's first possession ended when quarterback Jackson Walker, trying to reach for the ball for a first try, fumbled and the Pack's Levi Frost recovered at Flathead 30.
Five games later, Rendina growled at 3 meters and the rout began. Glacier ended up bulging 384-55 in total distance while breaking a two-game skid; Rendina ran her season TD total to 16.
He might have been 17, but he had a 43-yard screen and a 7-yard recall on the same drive. The Pack still scored, Connor Sullivan netting a touchdown pass for a 28-0 lead.
"Everything we've been up against, playing so poorly last week, I really challenged the team and they responded," said Glacier coach Grady Bennett. "I just wanted the guys to come out and compete hard, perform well, be efficient. No matter who your opponent is, you should always go out and perform well and do the things you are meant to do.
Going down 7-0, things got worse for Flathead (0-8, 0-6 in the league) on the next possession when Walker was hit at the end of a 22-yard flurry and left the game. with a right knee injury.
Haiden Bunyea came in and was also immediately shaken, as he threw his first pass; Braden Capser came on to make three QBs in three games for Flathead. Capser finally took over towards the end of the second quarter.
By then, Sliter had thrown touchdown passes at Luke Bilau, Jake Turner and Sullivan.
"It's a tough situation right there," Flathead coach Alex Cummings said. "I really hope Jackson gets the OK – I hope we get some good news about that. He's a super hard playing kid and he's a great leader for us.
Flathead's deepest foray into Glacier Territory occurred on the route when Walker was injured; Glacier missed a punt and the Braves took over on Pack 42. But they had to re-punt.
Glacier succeeded regardless of the position on the field. Pinned to his 16 by a flathead punt with 1:46 left in the first half, the Pack totaled 84 yards in six games. The big win was a 47-yard catch executed by Turner, who had seven receptions for 116 yards.
The bad news is he landed hard on a shoulder at the end, and came out as Rendina lined up for an 8-yard score in the next snap to make it 35-0 at halftime.
"Seeing him without his shoulder pads is a bit confusing because he's playing such good football for us," Bennett said. " In all areas. He's going to take x-rays on it.
Behind Turner, Bilau had three catches for 62 yards. Rendina once again failed to have her 2020 level workload, carrying just 12 times for 71 yards.
"I don't need it right now," said the 230-pound senior, who is treating an ankle injury. "We have Gage, we have great receivers, we deal the ball, the passing game sets up the running game, the running game sets up the passing game."
"We challenged some of our seniors," Bennett said. "We have a lot of young guys out there and sometimes those young people start to show up. Seniors must therefore really step in and play well. "I had a good meeting with Luke and he came up and played really great. Jake Rendina played really well – he's starting to be healthy now."
Glacier got an 82-yard kickoff return from Kash Goicoechea to start the second half, and after Rendina added his third touchdown, Isaac Keim entered the board by removing the ball from the running back of Flathead Joe Jones in the end zone.
That capped the score at 3:03 of the third quarter.
Glacier is staying home next week to play Missoula Hellgate on Thursday. Flathead concludes his season Friday at Missoula Big Sky.
"My conclusion is that we have a group of kids who are playing really, really hard," said Cummings, always positive. "We're downstairs right now and we're starting out with a lot of young children. We have the injury bug a little bit right now and we ask a lot of a lot of young children.
"At some point we'll get there, and it will take time. "
Flat head 0 0 0 0 – 0
Glacier 14 21 21 – 56
G – Jake Rendina 3 run (kick from Patrick Rohrbach), 9: 43-1Q
G – Luke Bilau 16 assists from Gage Sliter (Rohrbach kick),: 34-1Q
G – Jake Turner 14 assist from Sliter (kick from Rohrbach), 9: 53-2Q
G – Connor Sullivan 8 assists from Sliter (Rohrbach kick), 7; 35-2Q
G – Rendina 8 run (Rohrbach kick),: 43-2Q
G – Kash Goicoechea 82 kick return (Rohrbach kick), 11: 47-3Q
G – Rendina 1 run (Rohrbach kick), 7; 12-3Q
G – Isaac Keim escaped recovery in the end zone (Rohrbach kick), 3: 03-3Q
INDIVIDUAL STATISTICS
RUSHING: Flathead (32-48) – Jackson Walker 4-33, Joe Jones 12-16, Kaden Henshaw 8-10, Haiden Bunyea 3-1, Trevor Burke 2-minus 1, Braden Capser 3-minus 11. Glacier (28 -118) – Rendina 12-71, Xander Stout 5-15, Jake Turner 1-12, Kaleb Shine 1-11, Wyatt Thomason 1-8, Sliter 3-4, Carter Lapke 2-3, Isaac Ritter 2-1, Goicoechea 1-minus 6.
PASSAGES: Flat Head – Bunyea 2-7-0 for 7 yards; Caps 0-7-0 for 0 yards; Walker 0-1-0 for 0 yards. Glacier – Sliter 15-20-0 for 269 yards; Shine 1-1-0 for less-3 yards.
RECEPTION: Flathead – Caleb Riley 1-4, Gabe Lake 1-3. Glacier – Turner 7-116, Bilau 3-65, Sullivan 3-47, Tate Kauffman 1-23, Rendina 1-18, Ritter 1-minus 3.
[ad_2]