Trade Blog, Josh Dunkley, Essendon Bombers, Ben King, Interested Clubs, St Kilda, Sam Petrevski-Seton, Jon Ceglar at Western Bulldogs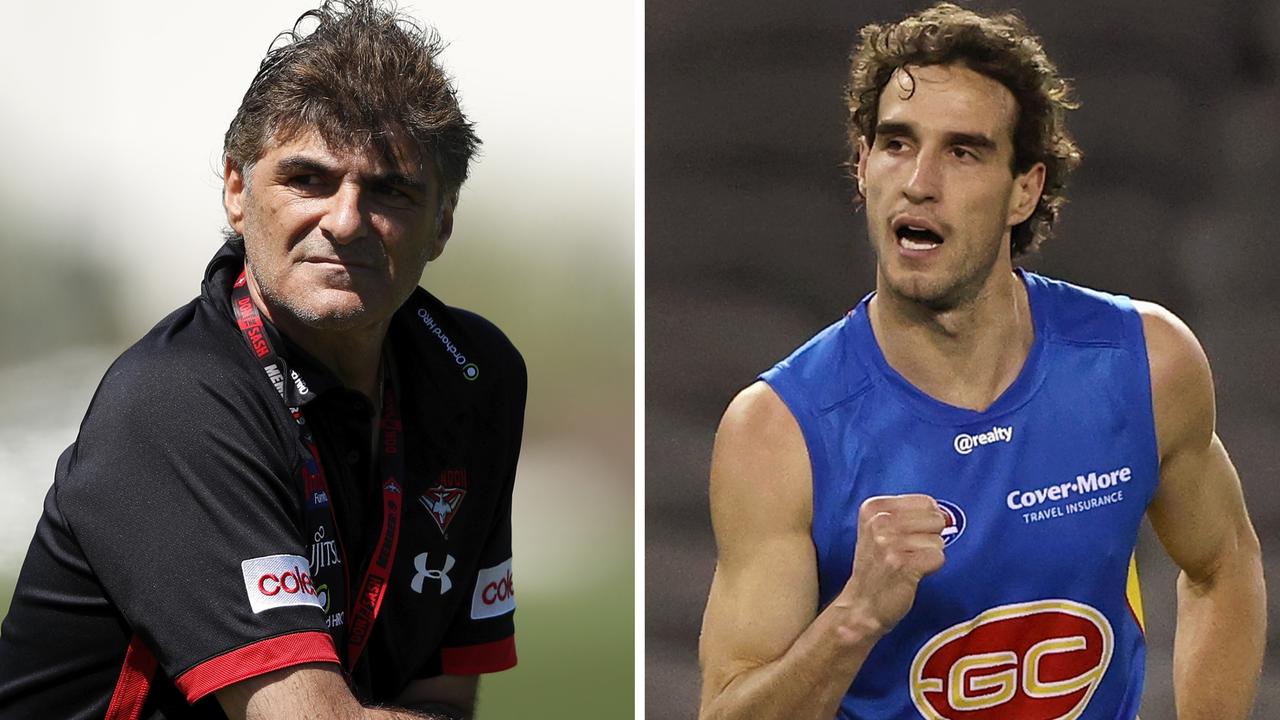 [ad_1]
Essendon unveiled its trading period plan; but we don't know how they will finish it.
Additionally, a Victorian club believes they've locked up a young Gold Coast pistol.
Catch up on all the latest AFL trade news in our blog below!
For the latest free trading and agency news from the AFL, watch Trading Day every weekday of the trading period starting at 5:00 p.m. EDT on Foxtel and Kayo. New to Kayo? Try 14 days for free>
LISTEN TO THE LATEST EDITION OF FOX FOOTY PODCAST BELOW, OR TAP TO SUBSCRIBE TO ITUNES OR SPOTIFY
1:00 p.m. – THE BOMBERS UNVEIL THE COMMERCIAL PLAN
Essendon's top priority during this trade period is to improve their draft hand, but it's unclear exactly how they're going to do it.
Last year, the Bombers had three top-ten picks – the first time they even had three picks in the first round – thanks to the free agency exit of Joe Daniher and the exchange of Adam Saad. in Carlton.
This year, they own picks 11, 48 and 53, having sent their second-round picks in the deal with Jye Caldwell. But Bombers general manager of football Josh Mahoney has said the club want to improve on that pick.
"This exchange period is a bit different. A lot of clubs would say there won't be a lot of movement, but you never know what's going to happen. At this point our main philosophy is with our draft hand, "said Mahoney.
"Talk to [national recruiting manager] Rob Forster-Knight, we think there is a lot of quality in this draft. We want to improve our draft position to add to the current squad we have. We think it's a young and developing squad, and we think adding more talent from the draft is our main focus at the moment.
"We've seen the improvement you can get from your current roster. We've seen this year somewhere like 12 to 15 players have improved and had their best career years. We think there is still a lot of development in our current group. We think we add to that with [young] talent, you get a number of players coming in the same age group.
"We had three first-round picks last year, and if we can add more, then all of a sudden you've got a great group of young guys who can stand out and build cohesion and understanding together. This has been a key part of all successful teams over a long period of time. "
It's unclear how the Bombers will be able to add draft picks given they don't have a lot of players looking for trades; Dylan Clarke and Marty Gleeson are waiting for contracts, but there's certainly no one on the table who would earn them a first or second round pick in return.
8:00 AM – SAINTS CONFIDENTS OF THEIR STAR SUNS
Three-time Coleman medalist Matthew Lloyd has revealed St Kilda is confident in landing Suns star forward Ben King while also naming Essendon as a potential contender.
King, who has scored a career-high 47 goals in 2021, is stepping out of his contract at the end of next season with several Victorian clubs set to target the 21-year-old.
And after locking up his twin brother Max until 2026, Lloyd believes the Saints are optimistic about uniting the pair, both of whom were among the top six picks in the 2018 National Draft.
But he thinks the Bombers could make a big play for the young cannon as well.
"St Kilda thinks they have it. The talk in Melbourne is that they feel like they got it and they will have Ben King, "Lloyd said on AFL Commercial Radio.
"I'm just wondering if you'll see Essendon trying to push his picks forward for next season just so they're in that window. This is the player they are asking for and he could take them to the Promised Land.
Port Adelaide champion Kane Cornes has stressed he will continue Gold Coast's horror record of losing young guns.
"It's devastating for Gold Coast to hear this speech already. They have no leg to stand on with their lack of success, "he said.
"There are probably a number of Gold Coast players like Ben King: 'Am I going to win here? Or will I do what (Dion) Prestia, (Tom) Lynch and (Steven) May did and go and win a prime ministerial position in Victoria? "
"It will be almost impossible to keep them. "
8AM – DOGS SHOULD EXPLORE TRADE FOR THE "SIXTH MIDFIELDER" GUN
Bomber legend Matthew Lloyd believes the Bulldogs should have traded midfielder Josh Dunkley to Essendon last year given their plethora of star players.
Dunkley's request to switch to the Bombers was denied by the Dogs in the final trading period after Essendon was unwilling to part ways with the two first-round picks.
And while Dunkley, who is on contract until the end of 2022, has since said he wants to stay at Whitten Oval, Lloyd believes the Dogs should explore trading options for him to strengthen other areas of their team. listing.
"Looking back, yes (they should have traded it). Because he has become the number six midfielder of their team, "he said. AFL Commercial Radio.
"They could look at each other and say 'we kept it last year, but how can we improve our roster? We probably have one midfielder too many, so how do we get a ruckman and a key backman in? "
"That's the kind of thinking I would have at the Bulldogs, it's to strengthen another area of ​​your football club."
MONDAY – SHOULD DOGS TARGET RUCKMAN HAWKS?
Sun Herald Journalist Jon Ralph thinks the Western Bulldogs should target Hawthorn ruckman Jon Ceglar.
The Bulldogs nabbed veteran veteran Stefan Martin in last year's trade period as an interim option to give them more ascendancy in the ruck while pushing Tim English forward.
But the Dogs could now assess other options, as Martin, who turns 35 in November, has missed a significant part of the season with injury.
And Ralph thinks Hawthorn ruckman Jon Ceglar might be the perfect fit.
"He's 30 years old, he's played five outstanding games to end the season in a pretty solid season," Ralph told Fox Sports News' AFL tonight.
"Why wouldn't the West Bulldogs have a real crack at him?" We know Hawthorn needs some extra pickaxes and the Western Bulldogs are looking for a ruckman there. "
MONDAY – WANTAWAY BLUE "NO ELITE IN TERMS OF PREPARATION"
Former Carlton roster boss Stephen Silvagni has said Blue Sam Petrevski-Seton's preparation needs to be improved.
The former Pick 6 requested a trade on the West Coast after a season indifferent to the Blues where he fell out of favor, playing 13 senior games.
Petrevski-Seton was moved from his usual midfielder / striker halfway position by Carlton, but struggled to make a significant impact in his new role and was repeatedly fired at the VFL.
Silvagni believes Petrevski-Seton will have to work harder to gain more opportunities in midfield for the Eagles.
"I wouldn't say he's part of the elite in terms of preparation. But I wouldn't say he's a poor worker, "said Silvagni AFL Commercial Radio.
"There are definitely things in his game that he needs to clean up, but he's only 23, still a baby, he should be in his prime."
[ad_2]